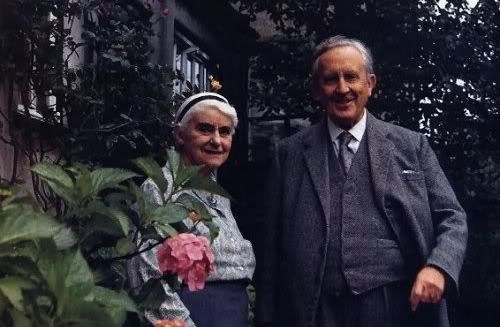 On March 22, 1916, author J.R.R. Tolkien marries Edith Bratt at St. Mary Immaculate Catholic Church in Warwick, England. Tolkien
was an Oxford University professor, who is best known as the author of the classic Lord of the Rings trilogy. At the age of 16, Tolkien met Edith Mary Bratt, who was three years older, when he and his brother Hilary moved into a boarding house where she lived. His guardian, Father Francis Morgan, viewing Edith as a distraction from Tolkien's school work was horrified that his young charge was seriously involved with a Protestant girl, and prohibited him from meeting, talking to, or even corresponding with her until he was 21. While disappointed, Tolkien obeyed this prohibition to the letter.
On the evening of his 21st birthday, Tolkien wrote to Edith a declaration of his love and asked her to marry him. Edith replied saying that she had already agreed to marry another man, but that she had done so because she had believed Tolkien had forgotten her. The two met beneath a railway viaduct and renewed their love; Edith returned her engagement ring and announced that she was marrying Tolkien instead. Following their engagement Edith reluctantly announced that she was converting to Catholicism at Tolkien's insistence. Her landlord, a staunch Protestant, was infuriated and evicted her as soon as she was able to find other lodgings. Edith and Tolkien were formally engaged in Birmingham, in January 1913.
Michael Thomas Barry
is the author of Great Britain's Literary Legends. The book can be purchased from Amazon through the following links:
Amazon
- http://www.amazon.com/Great-Britains-Literary-Legends-Writers/dp/0764344382/ref=sr_1_2?ie=UTF8&qid=1363964703&sr=8-2&keywords=michael+thomas+barry
Amazon UK
- http://www.amazon.co.uk/Great-Britains-Literary-Legends-Writers/dp/0764344382/ref=sr_1_1?ie=UTF8&qid=1363964742&sr=8-1